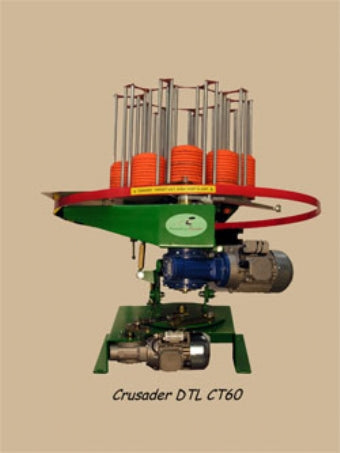 $8,740.00
CT60 Crusader DTL
This trap can throw DTL and Minis with the addition of a Minis Hopper.
For Minis you need a Minis Hopper change out which is extra.
Standard features
300 capacity target hopper
Wall mounted control system with sleep mode and target counter
Oscillation 34 / 44 deg with unreadable interrupt and sleep mode
Double knife target splitter
Gentle target delivery system
Consistent target placement and presentation
Throwing distance up to 100M
Instantaneous  solenoid release system
Manual pull cord 33M
Fully compatible with all Canterbury Voice Release products
2 Second cycle time
Remote safety
Simple distance, height, and windage adjustments
Windage adjustment as standard
Available in 240V and 110V options
38 inches high / 970mm
All steel construction, zinc plated for corrosion protection and powder coated
Optional mini hopper available to suit 75mm Dia targets
Windage adjustment is standard on all Crusader traps. This enables the target to be leveled in the sky, and reduce target curl due to crosswinds.
Distance and height are also easily adjusted.
The Crusader Control systems is easy to use and features a LCD displaying the target count and machine cycles.
A remote safety pendent with isolation switch and manual target release is also a feature on all Canterbury Traps.