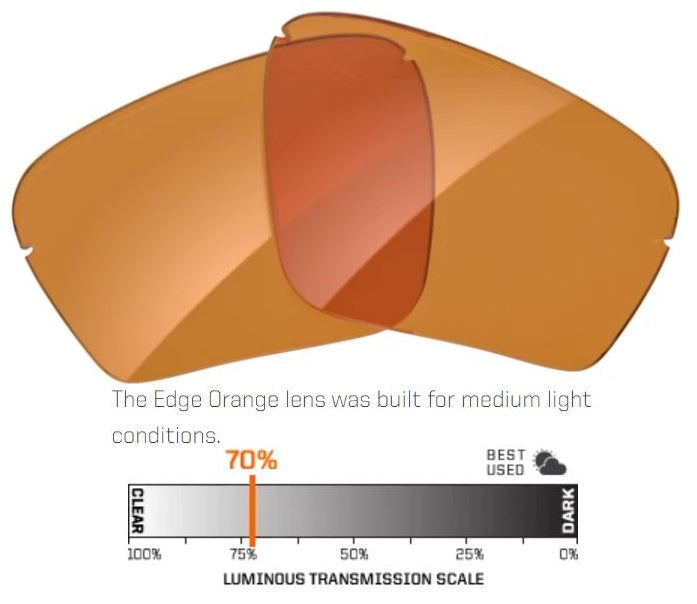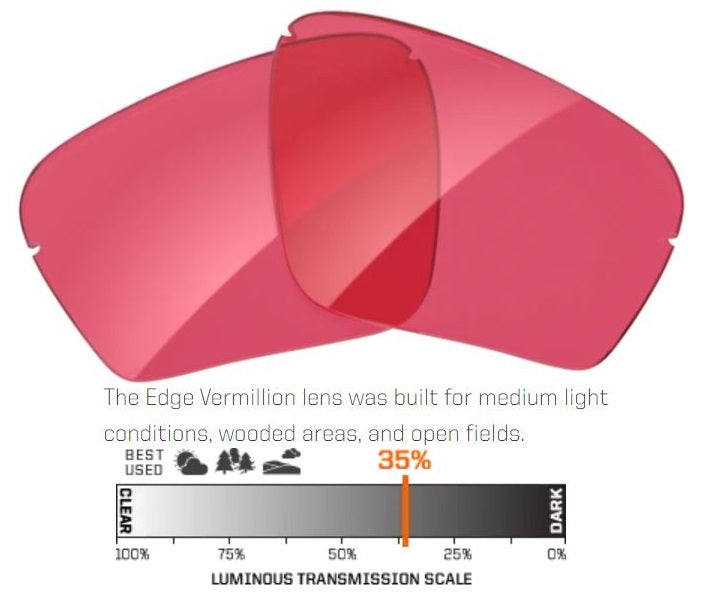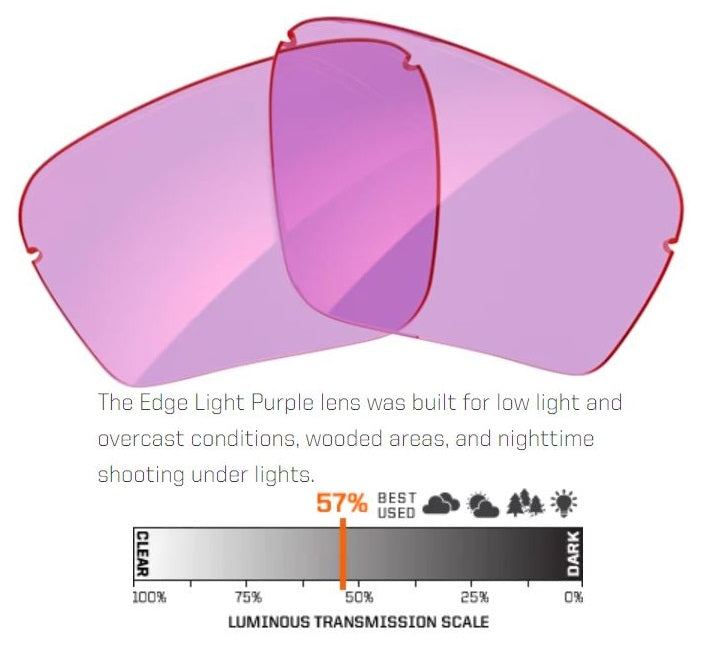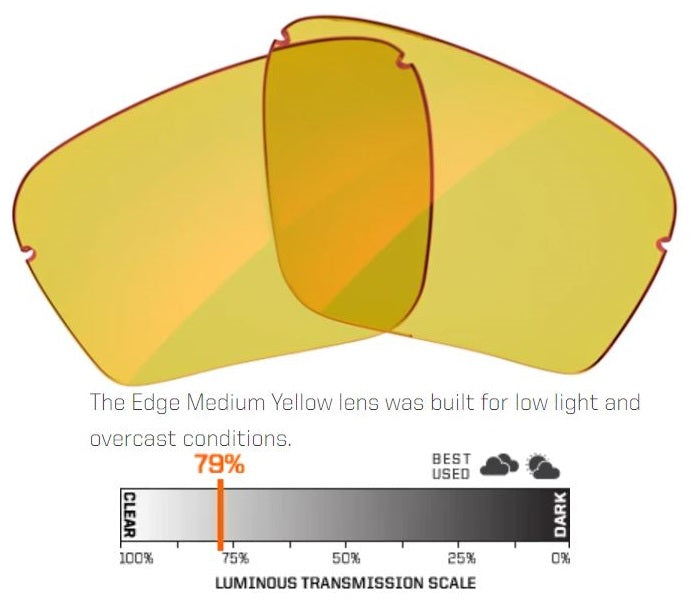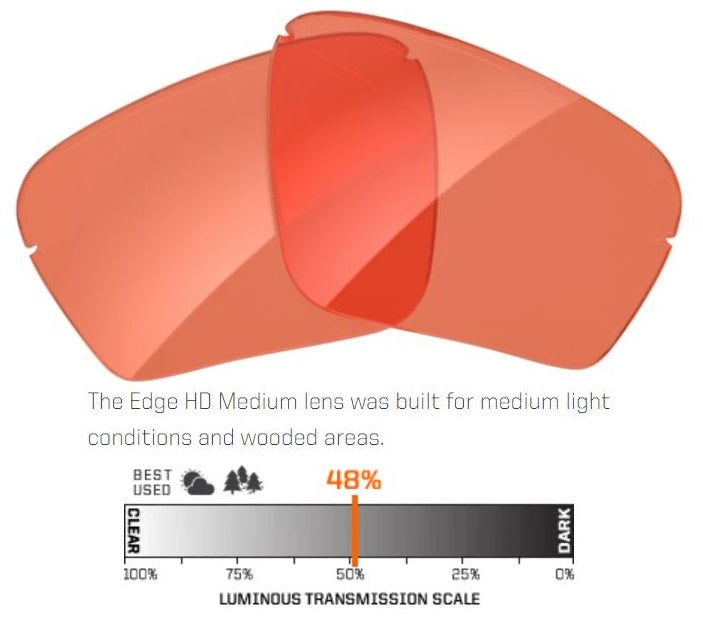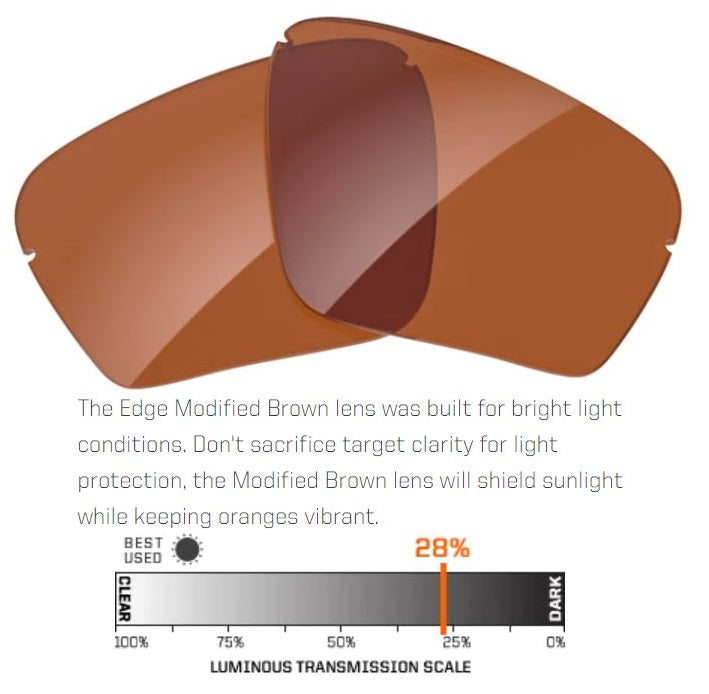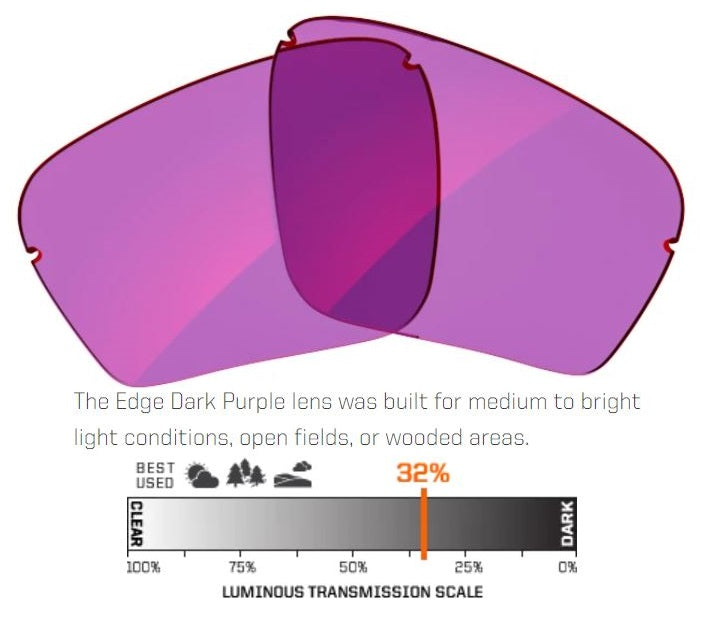 $45.00
Ranger Edge Lenses
NexPC ™ Lens Technology
The next revolution in polycarbonate lenses. NexPC is 5-6 times more impact resistant than standard polycarbonate with the same professional grade optics. Intrinsic material properties flex to absorb the force of projectiles before they reach your eye. During everyday use they remain 100% distortion free and scratch resistant. They also offer excellent UV Protection.
Lens Tints
Medium Yellow (52) - Highlights orange clay targets and enhances contrast in low light or overcast conditions. Our most popular yellow tint. LT-83.69% *
Orange (45) - Excellent all around lens for orange clay targets. Blocks haze and blue light, and enhances the orange of the target in medium light. LT-71.33% *
Light Purple (47) - Provides excellent contrast of orange targets against green background or sky. It dampens the green and enhances the orange target against trees. LT- 61.67%
Dark Purple (51) - A great lens for very bright conditions. Provides contrast of orange targets against a deep blue sky. An excellent lens for glare reduction and snow. LT-30.33%
Vermilion (46) - Terrific lens for shooting against green backgrounds. Works well for those with red-green color deficiency. Highlights orange and dampens green. LT- 41.41%
HD (58) - Offers incredibly crisp, clear vision by incorporating precise technology that filters out blue light to increase contrast while perfectly targeting the shooter's mark. This lens is the expert choice for medium light conditions.
HD29 Dark (73) - Offers the same clarity and crisp target view as the HD lens, however goes a step beyond giving the shooter a flawless edge in the brightest of light conditions by cutting through sun glare and reducing stress on the eye with a very effective tint. Great for red/green deficiency. LT-29%

Premium Lenses
ColorMag ™  (53) - Intensifies orange targets against any background. See up to 250% more orange light than a standard lens without affecting other colors. LT-18.50%
White Hot Red (WHR) - This Stunning New Proprietary Lens Tint developed by one of the shooting industry's top Opticians is designed to enhance the orange target against dark or blue sky backgrounds to the point where the target appears to be glowing "White Hot". Particularly evident on bright sunny days with no cloud background. This is a special characteristic lens which under the right conditions is a distinct advantage.

Modified Brown (60) - A perfect combination of traditional target orange color and the right amount of eye-relaxing sunglass brown. Highlights and defines the target while reducing eye fatigue and increasing comfort in bright conditions. Finished with a Hydro-Coat coating to repel water, sweat, and dirt and prevent fogging. Best used in bright light conditions.
MAX-Light (61) - Improve your performance in low light or night shooting under fluorescent lights. Unlike any other lens on the market, the yellow, orange and vermillion properties in this NexPCTM high-impact lens uniquely combine to both enhance contrast and sharpen target definition in low light conditions. LT-83%
LT = luminous transmittance
* May be used for driving
Choose the Lens size to fit your Frame size. Example: EGF2499 Frame 69mm requires a 69mm Lens.
Prescription Lenses available to order.